Press Release
Husk Power Systems Named "Microgrid Company of the Year"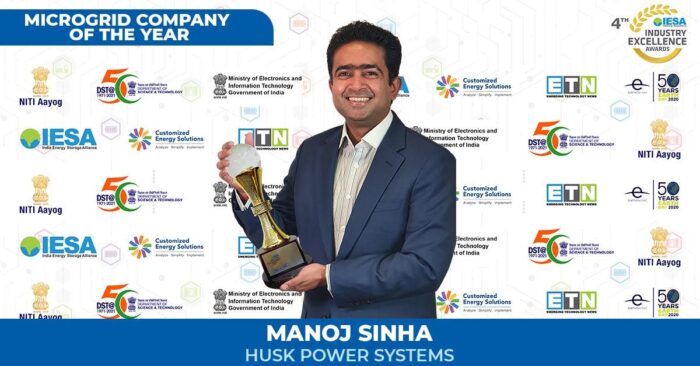 Fort Collins, CO, USA, 9 November 2020 — Today, Husk Power Systems, (huskpowersystems.com), the leading rural energy company operating renewable minigrids in Asia and Africa, announced that it was named 2020 "Microgrid Company of the Year" by the India Energy Storage Alliance (IESA).
The IESA Industry Excellence Awards were launched in 2017 to felicitate pioneers in the energy storage and EV industry in India. The 2020 awards added new categories including EV charging infrastructure, microgrids, and energy storage and electric vehicle markets. The awards honor companies and industry stalwarts for their technology innovation, market leadership, and competitive strategy.
"We are honored to be the first recipient of this prestigious IESA Industry Excellence Award," said Husk Power CEO and co-founder Manoj Sinha. "Our mission at Husk Power is to ensure that all communities have reliable, quality and affordable power so they can create opportunity and wealth for themselves and their enterprises."
Husk Power was also recently recognized by Dutch bank FMO as "the energy disruptors looking to move the needle" on energy poverty in rural Africa and Asia. Since 2018, FMO and other investors such as Shell, Swedfund and ENGIE Rassembleurs d'Energies have made a total US$25 million equity investment in Husk Power.
About Husk Power Systems
Founded in 2008, Husk Power Systems is an energy technology company that accelerates access to clean, modern and affordable electricity in Africa and Asia by developing and operating renewable energy minigrids. Its customer-centric service matches the growing needs of households, businesses, and community services. The company's grid-compatible solution also supports national electrification plans. For more information, visit huskpowersystems.com
Media contact: Manish Kapoor, manish_kapoor@huskpowersystems.com