Husk Power Systems Hires Cleantech & Energy Access Executive William Brent as Chief Marketing Officer to Expand Rural Energy Services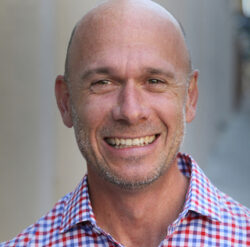 Fort Collins, CO, USA, 27 July 2021 — Today, Husk Power Systems (huskpowersystems.com), the leading rural energy company operating renewable minigrids and adjacent services in Asia and Africa, announced the hiring of William Brent as its Chief Marketing Officer (CMO).
Brent joins Husk Power after more than five years as the Chief Campaign Officer at Power for All, an NGO focused on energy access, where he oversaw strategic partnerships, branding and communications and various campaigns focused on minigrids and their role in job creation, agricultural productivity and healthcare provision. Previously, he spent a decade starting and building the cleantech and climate solutions practice at global PR firm Weber Shandwick. Brent has been on the steering committee of the Mini Grid Partnership since 2018, and has also been an active member of the Sustainable Development Goal 7 Technical Advisory Group, among many other industry affiliations.
At Husk Power, he will be responsible for developing and implementing marketing and communications strategy, and leading a team that will cement Husk's position as the only minigrid company working at scale across both South Asia and Sub-Saharan Africa. 
"I am excited to welcome William to Husk's senior leadership team and I look forward to working with him to build a world-class rural clean energy brand that is recognized by customers, governments, investors and employees across Asia and Africa," said Manoj Sinha, company CEO and co-founder. "His 20 years of experience scaling climate and energy access solutions will accelerate Husk's mission to provide rural communities around the world with 100% renewable power and to ensure resilience and opportunity amid the mounting challenge of climate change." 
Added Brent: "As someone who has been actively engaged in the minigrid industry for several years in Africa and Asia, it is clear to me that Husk has emerged as a leader in technology, operations and business model and can have a major impact on ending energy poverty and empowering rural communities. I look forward to contributing to Husk's vision of building 5,000 minigrids and serving 500,000 customers in the coming decade."
About Husk Power Systems
Founded in 2008, Husk Power Systems is an advanced energy services company that accelerates access to clean, modern and affordable electricity in Africa and Asia by developing and operating renewable energy minigrids. Its customer-centric service matches the growing needs of households, businesses, and community services. The company's grid-compatible solution also supports national electrification plans. For more information, visit huskpowersystems.com
Media contact: William Brent, william_brent@huskpowersystems.com, +34 684314268